Well, that happened.
Hello, from the swampy banks of Brays Bayou! It's August! How the fuck did that happen, you may be asking yourself! I certainly am. Sorry about that whole "Summer Schedule" thing. Turns out, when you're deeply and nearly-irretrievably stressed out AND handling a lot of stuff, sometimes the best intentions lead you exactly where you'd think.
I thought that this letter, first letter back, I could do a Trad Pub 101-type letter, which I don't think I've done before. There is a lot of basic information out there on Al Gore's internet about publishing, but let's start out with the basics of traditional publishing, and the roles of editor and agent.
What is "Traditional Publishing?"
Traditional publishing, for lack of a better word, means to be published as part of the entrenched and historical professional publishing industry. Many (but not all) of these companies are based in New York City, most (but not all) rely on the work of agents to find them material to publish, and most (but not all) require a contractual agreement for term of copyright to publish a book.
Basically, when you go into a bookstore, 99.9999% of the stuff you see on the shelves is traditionally published, by the Big Five or an indie or a micropress. The Big Five are the end result of decades of mergers and conglomerations: Penguin Random House, Hachette, Harper Collins, Simon & Schuster, and Macmillan. Most of these are owned by still-larger corporations (Simon & Schuster's parent company is currently trying to sell it, which was a fun bit of agita to deal with in July.)
One level down in size you get the larger independent publishers - Houghton Mifflin Harcourt, Bloomsbury, Abrams, Sourcebooks. And then so on and so on down in size until you have indies who do only a handful of books a year, in contrast to the thousands from the Big Five.
When you publish "traditionally," there are certain expectations: you will (most of the time) receive an advance for your work, your work will be edited and copyedited to a professional standard, they will use their powers of marketing and publicity to market and publicize the book, they'll give you a cover and a nice interior design with pretty fonts, and they will provide you with statements of sales ("royalty statements") periodically after the book is published.
The benefit of the traditional route is that all the things the publisher does for an author are things the author does not then have to do themselves. An author publishing this way does not have to be their own marketing/publicist/cover designer/copyeditor/editor/accountant/lawyer. With the caveat that today's publishing landscape does ask the author to take on marketing and publicity to promote their own book, theoretically there is someone at the helm steering those efforts.
What is an editor? What do they do?
An editor works at a publisher and is the one who will acquire your book. They will then, in most cases, edit your book - perhaps you already did edits with your agent before submission, but sometimes there's one more step to take the book to the next level. This edit is different than copyediting, which comes later in the process. A copyeditor checks for spelling and grammar errors, but also checks for things like: "You have characters take off their clothes in this scene, and then they go outside without you having indicated that they put their clothes back on."
An editor also coordinates the efforts of all the other departments who are working on your book's behalf- they'll be the person introducing you to your marketing and publicity team, to the art team that will design the cover and interiors for the book, etc.
What is an agent? What do they do?
To get to a traditional publishing contract, 99.9999% of the time you need an agent. Most publishing companies don't accept unsolicited submission, so an agent is the person who receives those same unsolicited submissions, sorts the projects they like from the ones they don't, and sends the projects they sign onto publishers.
A brief note on gatekeeping
I'm guessing if you are reading this newsletter on purpose you probably aren't morally opposed to the idea of an agent, but there exists in the Discourse the idea that agents are actually obstacles to publication; that they exist solely to ruin the dreams of writers by *checks notes* only signing things they like.
Working with an agent means that you theoretically get professional advice, help crafting your manuscript into the best version possible for submission, an advocate for difficult conversations with your editor, a financial watchdog to make sure you're getting your royalty statements accurately and on time, and generally, a professional partner who can help you take your career to the next level.
An important note: a good agent will never ask you for money up front. Agents are paid by commission only - money flows TO the author, not away. If an agent has a "reading fee" or something posted on their website, they are not acting ethically. The Association of Author's Representatives has a solid outline of the ethical framework agents should operate under - not every good agent is a member of the AAR (and some bad ones ARE members, lol) but it's a good place to start
That's the brief overview of these three aspects of the publishing industry: next time, I'll be talking about the process of getting from manuscript - agent - published. I'm thinking this will be a three-part series, with the final installment being on "so things have gone terribly awry."
Got something you want to ask? Anything you're curious about that you'd like covered? Do you want to make a convincing case for your team in the NHL Zombie Stanley Cup Finals? Leave a comment or reply to this email!
Client News
Sasha Laurens' debut novel A WICKED MAGIC published last week! Publisher's Weekly said "Deftly plotted, with engaging, realistic characters, this paranormal debut has appreciable depth." And Kirkus called it a "cinematic, page-ripping debut."
The preorder campaign for Marieke Nijkamp's EVEN IF WE BREAK launched last week! Each week leading up to publication a new cool preorder perk will be revealed, starting with a custom RPG designed by Marieke that's modeled on the in-book game the protagonists play (to their deaths!) Check it out on Sourcebooks Fire's website.
Chelsea G. Summers' A CERTAIN HUNGER got its first trade review, and it's a real barn-burner fro Kirkus: "Dorothy balances her most revolting qualities with a caustic wit, a kind of wink and a nod to readers when things get ghastly that it's all in good fun. After all, she argues, 'Power is the ultimate aphrodisiac.' Move aside, Bret Easton Ellis." !!!! You can order it here.
Francina Simone's SMASH IT! has a great review from PW: "Simone crafts an entertaining and inclusive cast to accompany Olivia through the peaks and valleys of friendship, romance, and self-love."
This Week In Hockey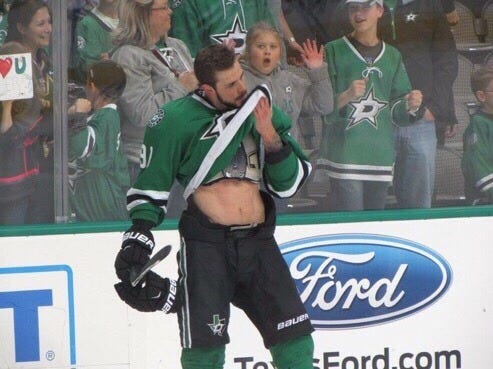 Sports: INEXPLICABLY NO LONGER CANCELED! I was extremely skeptical of the return-to-play plan that the NHL and the NHLPA put together -two "bubble" cities in Canada where players are isolating in luxury hotels while playing games in empty arenas - but so far there have been no positive tests among the teams since they've arrived in the bubbles themselves. Are they testing the staff at these hotels as much as they're testing the players? Are they testing the support workers and housekeepers and room-service-deliverers at the same rate? Probably not, because capitalism is a nightmare! But sports are happening, the Rangers are already out, and the Stars aren't far behind.
We need a player to celebrate on the Challenge Cup Playground by Paulo Maurer (The Athletic)
But with only a handful of games remaining at Zion's Bank Stadium, there remains one massive, glaring question: why, exactly, has nobody celebrated a goal on the playground?
Ryan Reaves, Jason Dickinson, Tyler Seguin, and Robin Lehner Kneel for Anthem by Ian Oland (Russian Machine Never Breaks)
"I did the mistake once and put the Trump sticker on my mask," Lehner said. "It's something I regret now, seeing how divisive things have been. But at the end of the day, this is not about politics. This is about human rights. Everyone should have the same chance in society. Everyone should be treated the same. At the end of the day, I love America. But there are a bunch of things that need to be corrected, and it's just about willingness to do something about it. 
Links!
George R. R. Martin Accused of Racism and Generally Just Sucking After Hosting Hugo Awards by Madison Malone Kircher (Vulture)
To celebrate a particularly diverse year of nominations — Comic Years reports that the all-female slate of Best Novel nominees was a Hugo first — Martin opted to repeatedly reference racist figures in the science-fiction community. Martin also bungled the pronunciation of several names, including those of winner Rebecca F. Kuang and FIYAH, a Black quarterly magazine run by Black writers.
Stop Giving Awards to Dead Racists: On Lovecraft and the Retro Hugos by Meghan Ball (Nightfire Blog)
What in the blazes are the Retro Hugos, you may ask? Excellent question. Since 1996, the Retro Hugos have been an optional award given out by WorldCon, who host the Hugo Awards every year, to celebrate works of science fiction and fantasy from the time before the awards existed. They focus on the decades between the 1930s and the 1960s, and are, again, I can not stress this enough, optional. This literally did not have to happen. The point of these awards is to highlight achievements in the genre that never got awarded. I imagine there was a group of very well meaning people who thought maybe they could uncover lost gems or highlight authors who never really got their due in their lifetime. Instead, they appear to be a way to give the same few names more accolades, and seem rather alarmingly unconnected with what is going on right now in the genre. 
This has been A Faster No, a weekly dispatch on publishing, writing, books, and beyond. This is a free post, but if you'd like to support the newsletter and get exclusive content, paid subscriptions are available for $5/month or $50/year. Feel free to forward.