Discover more from A Faster No
A weekly newsletter about writing, publishing, and the craft and business thereof, from a former literary agent. All opinions my own.
This is a haul post
One of my favorite things to do on trips is to go to cool or historic bookstores and buy books, preferably books written by people from that city or about that city. This is how I picked up Laurent Binet's HHhH and two books by Czech author Milos Urban in Prague two years ago. On my recent trip to London and Dublin I showed admirable restraint (for me) and only bought nine books, and I thought it'd be neat to tell you about the bookstores I visited and the things I brought back. 
Haul Post!!!!1!1!1! (I know this isn't youtube or instagram, but I had to do it.)
London - Hatchard's Booksellers 
Billed as London's oldest bookstore, and founded in 1797, Hatchard's is a place I go every time I visit London. With three incredibly well-curated stories of books on a huge range of topics and with a mystery and crime section that would drive a crime lover to tears, Hatchards is well worth your time (if a little annoying to get to, as their main branch is on Picadilly Circus, aka the most crowded street in London.) They are also holders of three Royal Warrants, meaning they're the official booksellers to Queen Elizabeth, Prince Philip, and Prince Charles. If you're into that kind of thing. (They're also right next to Fortnum & Mason, makers of fancy picnic hampers, if you're into THAT kind of thing.) 
What I bought: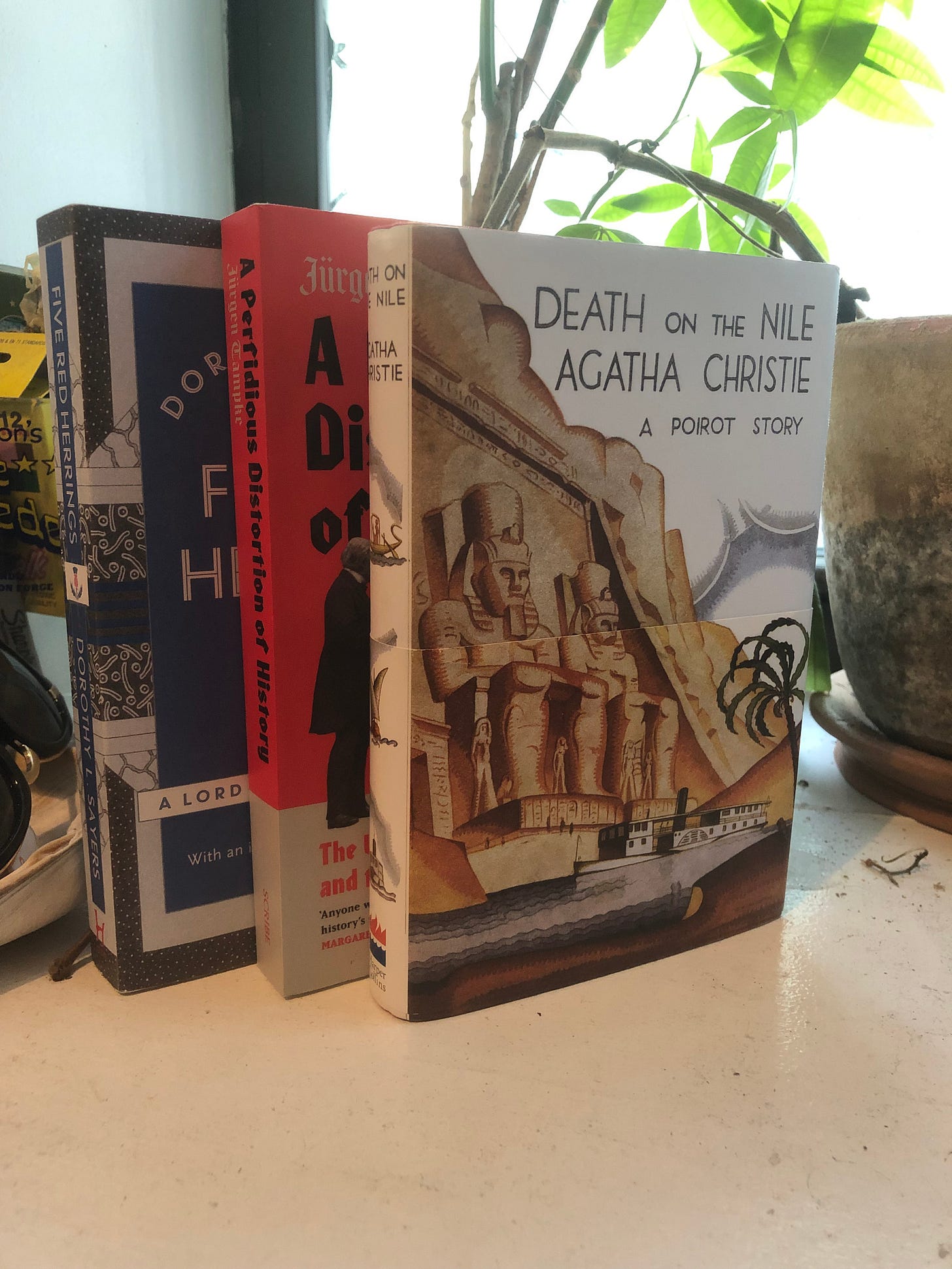 Death on the Nile by Agatha Christie - In the grand publishing tradition of repackaging books every so often, Harper Collins is doing new facsimile editions of Agatha Christie novels with the original covers. I purchased Death On The Nile, one of my favorite Poirots. 
Five Red Herrings by Dorothy L. Sayers - I also bought a Dorothy L. Sayers because I am a parody of myself, but in my defense, it was a copy of a novel of hers that I did not already own - 1931's Five Red Herrings. It was a real wrench to not purchase yet another edition of Gaudy Night, even if the introduction was written by Harriet Walter, but I thought my sister might murder me if I came home with another copy. This pretty new trade paperback version will work well with the other trade paperback editions I have. 
A Perfidious Distortion of History: The Versailles Peace Treaty and the Success of the Nazis by Jurgen Tampke - Also because I am a parody of myself, I bought a new book about World War I - at least, new to me. This is a 2017 work that re-examines the aforementioned treaty and Germany's responsibility for the war - arguing most controversially  that the hyperinflation supposedly caused by the ruinous reparations payments laden on Germany after the war was in fact a deliberate strategy on the part of the German government to get out of paying. I haven't read it yet but I'm excited to take a look. 
Dublin - Hodges Figgis Bookshop
Hodges Figgis sounds like a Dickens character- or a Joyce character, more appropriately. Founded in 1768 the shop (and now operated by Waterstone's, arg) Hodges Figgis was not so large as Hatchard's but was packed with a great selection, including fabulous sections featuring contemporary Irish writers, Irish classics, and travel books. I concentrated on the contemporary Irish section for the most part here.
What I bought: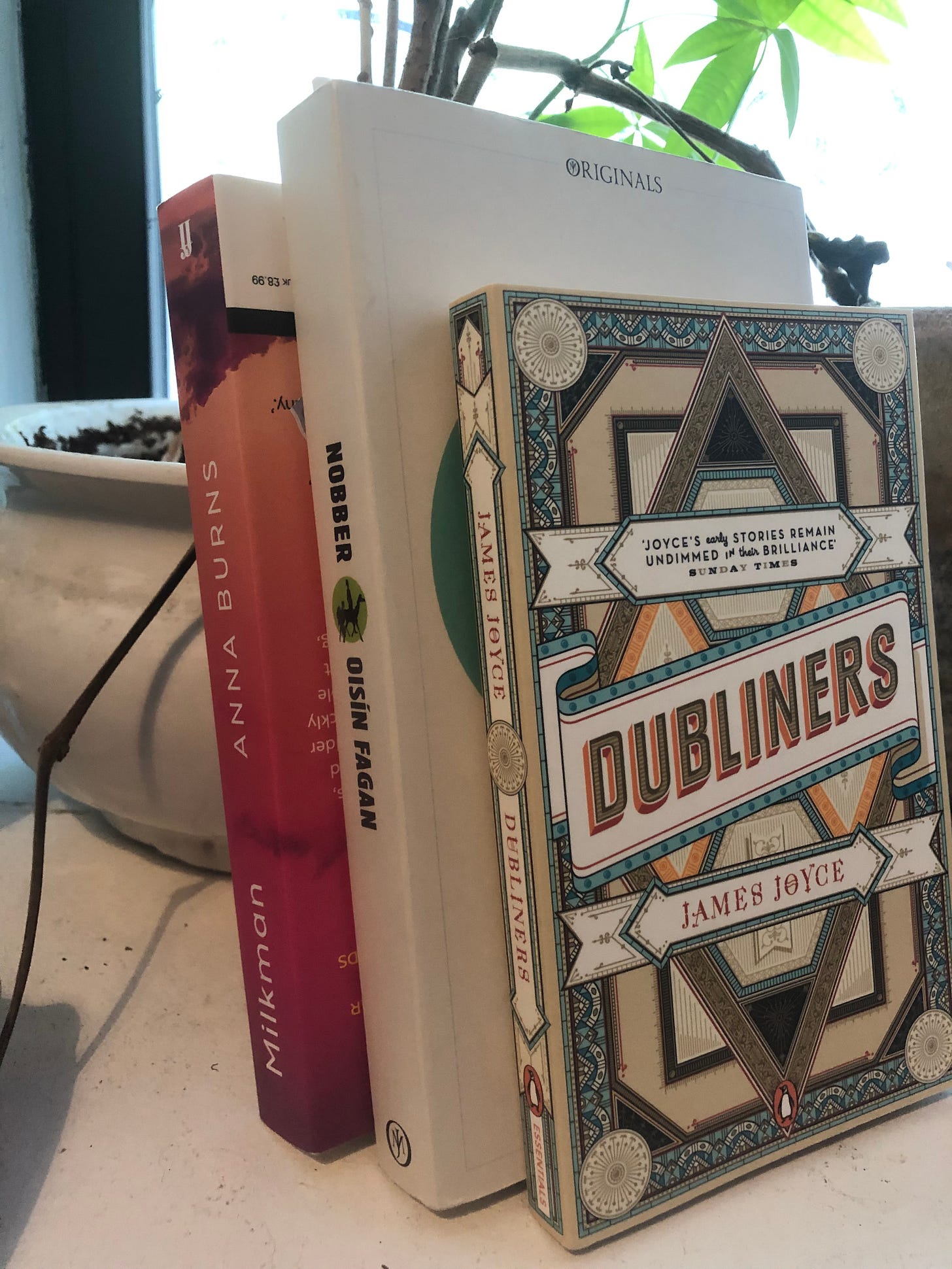 Nobber by Oisín Fagan - This is the one I started reading on the plane on the way back. A hallucinogenic and violent novel set in the chaotic wake of the plague's journey through Ireland, Nobber follows the progress of a noble trying to buy up land from the dead and his retinue, as well as the residents of the town of Nobber, themselves struggling under the strange weight of a tyrannical ruler. It reminds me a lot of Lord Mord by Milos Urban - lots of emphasis on bodily fluids. 
Milkman by Anna Burns - I'd definitely heard of this one before, as it won the Man Booker prize in 2018. It follows a young woman in an unnamed city who unwillingly draws the attention of a paramilitary operative known only as Milkman. Excited for this one! 
Dubliners by James Joyce - Fun fact: when I was in high school I had a bit part (a VERY bit part) in a musical production of James Joyce's "The Dead," the final story in this collection. I haven't read the collection since then, and they had this lovely trade paperback edition, so I snagged it up. 
Dublin - WorldCon Dealer's Room
One fun thing about going to conventions is the booksellers that set up shop in the dealer's room. Sometimes it's a bit of a grab bag, but sometimes there is a great selection. Any overseas con has a different selection than the US-based cons, so it was a real wrench to restrict myself to just two books.
What I bought: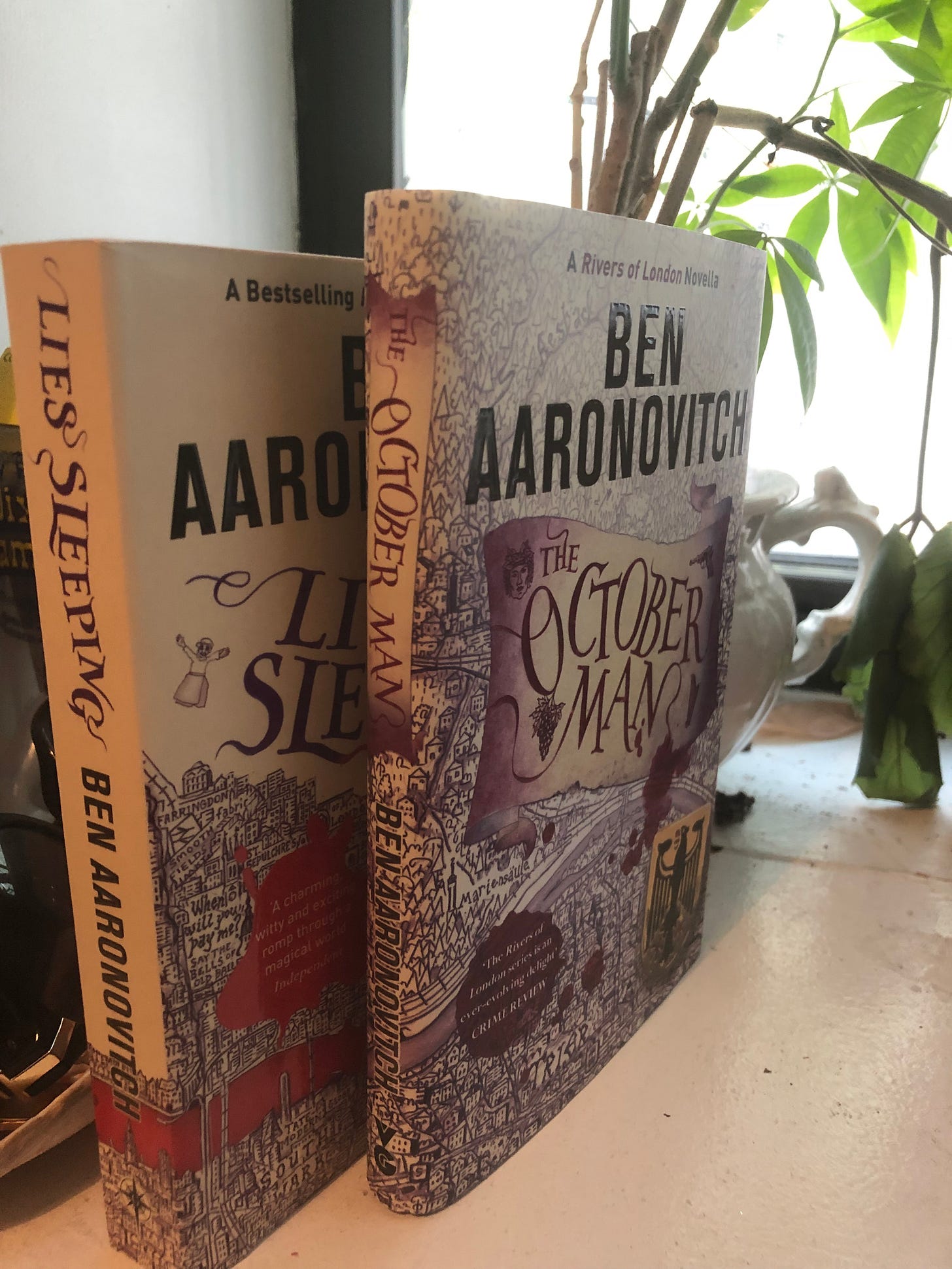 Lies Sleeping and October Man by Ben Aaronovitch - If you haven't read the Rivers of London series by Ben Aaronovitch, may I highly recommend you begin doing so immediately? The first novel, published as Midnight Riot in the US, introduces Peter Grant, an officer in the Metropolitan Police Service, who, after an encounter with a ghost, is seconded to the division of the Met that handles supernatural crimes. That's a bit reductive for this sprawling, interesting series; Grant is biracial, and brings a keen observer's eye to every interaction he has. Each book has a kind of crime-of-the-week structure within a larger framework, and it's some of the best world building I've ever encountered. These were the two books in the series I hadn't gotten around to picking up yet, and conveniently Ben Aaronovitch was signing after a meeting, so I was able to get October Man signed.