Discover more from A Faster No
A weekly newsletter about writing, publishing, and the craft and business thereof, from a former literary agent. All opinions my own.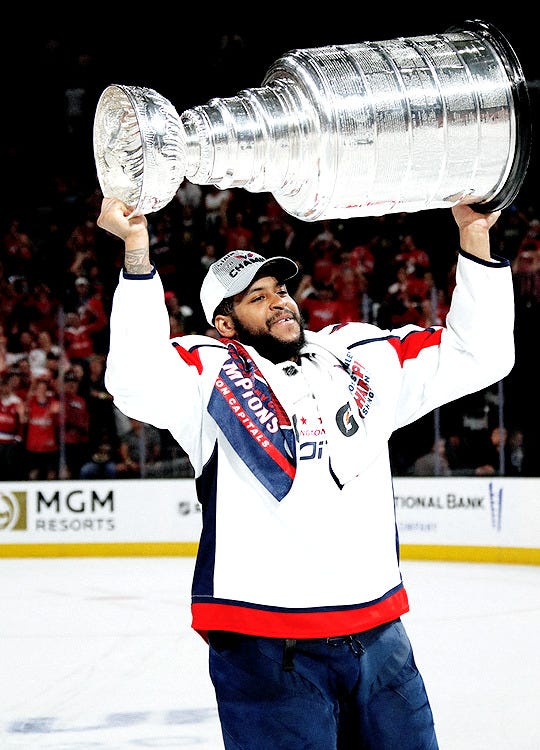 Hi all, from the banks of Brays Bayou! We've had some spectacular nature here recently, between a lightning storm, several thunderstorms (one of which caused a power outage) and several sightings of a mama hawk and her baby, flying around near the pond. The baby was clearly trying to hitch a ride on mom's back, and mom was not having it. It was adorable, and we saw the eagles so close! It was very "The majesty!" if you get what I mean.
Took a break last week from the newsletter to recalibrate, and can announce the results of the recalibration: for the summer, this here newsletter is moving to a once-a-week format! Every other week will be for paid subscribers exclusively, so if you don't want to miss out on fifty percent of my scintillating witticisms, consider a paid subscription. Or consider befriending someone who has one.
I don't really have the words to talk about what's going on in Minneapolis, so I'll just link you to the Minnesota Freedom Fund, which is a worthwhile organization that helps with bail for the protesters arrested in Minneapolis this week protesting police violence.
No one has submitted questions (Is that not something y'all are interested in?) so I went back into the archives of the Shipping & Handling Tumblr and found this ask:
I think this is tired old question, but any advice on carving out time to write? I have to be up at 5:30 AM for work, finish at 3:30, then run errands, pick up kids, make dinner, do kid bedtimes, and by 9pm, I have nothing left in terms of energy or creativity. I can get a little time on the weekends, but it's hard to get invested in a project that you work on once a week. How do your authors do it?
Bridget and I discussed this on one of our episodes but this question has an even stranger urgency now, when All Time Is The Same, and presumably this person is trapped inside with their children so has even less time to devote to creativity.
In one of my conversations this week the person I was talking with referred to "time ooze," which was such a perfect turn of phrase that I've repeated it three or four times since. Time ooze is when every minute flows into the next and is also the same as the minute that came before it. Someone else pointed out that there is no difference between days; a Monday is much like a Thursday is much like a Saturday. It gives a sadder, weirder meaning to this gif: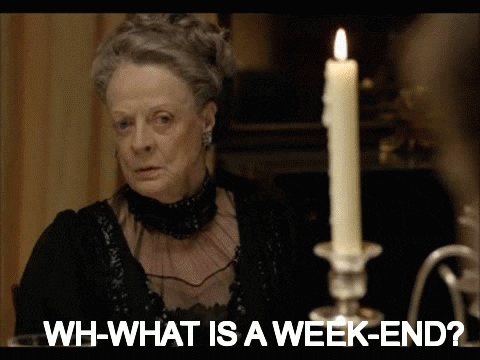 Get it? After this we won't know what a weekend is! Because all days are the same! To this person and to all of you, I say: I have no idea. I'm struggling with this, too. When all days are the same and when you're doing the same thing every day, it's very hard to get the motivation to work on a big project. This goes for work projects and personal projects, and I don't even have kids.
I can only tell you the things I've been doing the last couple of weeks that have managed to restore some modicum of structure to my days, and these will be obviously inapplicable to many people.
1) Abandon the idea that you will get everything done. This is a fiction, and a harmful one at that. There is no permanent inbox zero: there is only inbox zero right now. Do what you can when you can do it, and leave the rest for later. Right now there is nothing but later.
2) Look at your schedule and work backwards to block in tasks. I downloaded the free (and somewhat cheesily-named) Passion Planner daily layout and print out a few days at a time, and in the morning I write down the meetings/calls/zooms/hangouts that I know will not move. Then I look at my running to-do list (the myth of a complete to-do list is almost as harmful as the idea of inbox zero) and see what absolutely has to get done, and block out time around the meetings to do it in.
3) Have a start/end time to your day. This may seem paradoxical when there are so many things to do and so little time to do it in, but really, are you actually being productive when you are looking at your email on your phone at 8pm while you're also watching tv? I find that I get more done if I know that at some point the working will end and I can go and ooze onto the couch. This also means that when you are worried about the time spent working on creative projects, you can say "But my work day is done, so now is the time to work on this."
4) Hydrate. You're probably not drinking enough water.
I don't think this advice will be particularly helpful for the person who sent in that ask a million years ago - 5:30 am sounds like shift work and that might be gone, and childcare obviously offers its own challenges. But whatever your struggle is in getting creative work done, figure out what works for you, and do it. There is no right way to get through this, only the right way for you.
Housekeeping
I didn't really mean for this newsletter to turn into motivation/productivity corner, and I'm not sure that I'm particularly good at it, but it seems like the question thing was a nonstarter. I'm going to do some primers on Publishing 101 instead, so we'll see how that works! If there is something you want to know about, reply to this email or leave it as a comment.
Client News
New-to-me client Meryl Wilsner had their debut novel release this week! It's called Something to Talk About and it is completely charming. If you order from Schuler's you can get a signed copy!
Client Elyse Martin has another great essay up on Tor.com- Balancing on the hyphen: AAPI Identity & Nationalism in Naomi Novik's Temeraire series
This Week In Hockey
Sports: They're… back? The NHL announced its plans this week to move to a 24-team playoffs, with teams quarantined in two hub cities. I don't fully understand the plan, but, uh, I don't like it - it seems like the better part of valor would be to just put an asterisk on this season, give the President's Trophy to the f*cking Bruins (ugh) and see where we're at in the fall for the regular season.
The NHL's protocol for phase 2 of return-to-play is very bad by Peter Hassett (Russian Machine Never Breaks)
The implicit expectation is for players to take charter flights, though their $1,500 reimbursement would not nearly cover that . Public transportation would require a 14-day quarantine, and carpooling is explicitly forbidden. The burden for coordinating and paying for these flights is vague. I'd presume whatever the equivalent of carpooling is for charter flights would also be forbidden, though this is not clear. So we will likely have, to save money, five or six Swedes climbing into the same private jet next week.
Hockey is Not For Everyone by Akim Aliu (The Player's Tribune)
It was the year I'd left my family home in Toronto to go play hockey in the OHL. I was just a raw 16-year-old kid with a big ol' dream that he'd make it to the show one day. Nothing unusual about me, really. But from the moment I joined the Windsor Spitfires, I had a target on my back. There was this guy on the team — he was the top-prospect, future-NHL-star type that most junior teams in Canada have — and he looked at me, Akim Aliu, and chose to make my life a living hell. 

Links!
The Appeal of the Tiktok Everyhouse by Emma Alpern (Curbed)
What I love most of all, though, are the regular TikTok houses, with rooms that follow rules put forth by American building practices, big-box retailers, and the app's moderators, but that still manage to feel lived in, personal. These are homes in the beige area between the extremes. The living room has a 50-inch TV and a vast sectional sofa. The floor is hardwood-ish, neutral carpeted, or maybe sporting a quatrefoil rug. There's a giant clock on the wall—often this one, the first thing that comes up when you search "clock" on Home Depot's website. Christmas lights are strung half-heartedly around bedroom doorways, cords tangle along the baseboards, and there are so many pools. 
Money is a Country: an interview with Emily St. John Mandel by Allan Vorda (Rain Taxi)
"I did have to learn a bit about finance. But what's perhaps more relevant to those quotes of Mirella's is that I've lived in more than one socioeconomic class, and having money vs. not having money are such profoundly different states that moving from one to the other really is as profound as moving between countries."
This has been A Faster No, a weekly dispatch on publishing, writing, books, and beyond. This is a free post, but if you'd like to support the newsletter and get exclusive content, paid subscriptions are available for $5/month or $50/year. Feel free to forward.