For Your Consideration
Hugo Award Nominations time!
It's been a minute! But let us gloss over the brutal end of 2019 and the manic, insane beginning to 2020 and bring ourselves, in the spirit of grace and supplication, to the present moment. I'm in the process of re-launching this newsletter, planning out posts and picking out pretty gifs, and the ""official"" first new issue will be on Tuesday March 17. In the meantime, we're approaching the end of the nomination period for the Hugo Awards, and I have some clients with some fabulously eligible work! 
To nominate, you have to have a membership to New Zealand 2020. You do not have to be attending WorldCon itself to nominate (goodness knows I'm not.) Nominations are due March 13- check this link for the times.
Onward!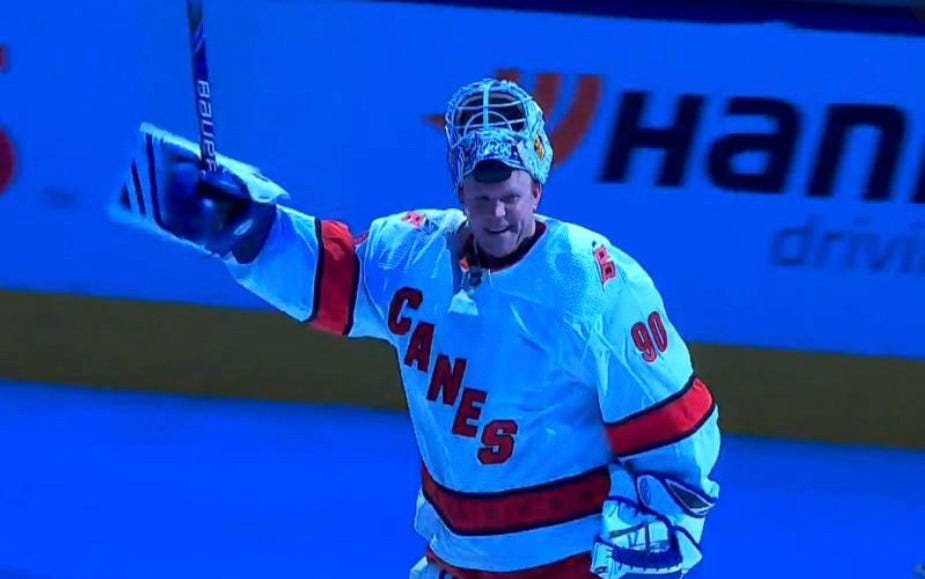 BEST NOVEL
W.L Goodwater - REVOLUTION (Ace, November 2019) 
This is the second in a series, and I highly recommend it and the first book, BREACH. These two novels follow CIA magician Karen O'Neil as she fights dark magic in a world where magic not only exists, it was used to end the Second World War. In BREACH, the Berlin Wall is made of magic - and that magic is failing. In REVOLUTION, the dark magic which created the Wall has found a new home in pre-Revolutionary Cuba. Karen is a fantastic character and these two books are full of action, intrigue, and danger. 
"This supernatural spy thriller...hits all the right notes. The fun and thrilling fantasy/thriller mashup will remind readers of Jim Butcher or Lev Grossman with a little Robert Ludlum or John le Carré thrown in."—Library Journal
"By turns humorous, suspenseful, and deeply disquieting, this meaty thriller will keep readers on the edges of their seats."—Publishers Weekly
"Breach is a Cold War fantasy that nails the period flavor of a divided Berlin haunted by the horrors of the past, with a great cast and plenty of magic.  Fans of Tim Powers' Declare or Charles Stross' The Atrocity Archives will like this one!"—Django Wexler, author of The Infernal Battalion
C.M. Waggoner - UNNATURAL MAGIC (Ace, November 2019) 
This is the book I described as "the story of a lady half-troll, her disaster bisexual army deserter boyfriend, and a math genius wizard apprentice, and together, they fight crime." I love the world in this fantasy, where trolls are the highest class in the land and live alongside humans who are desperate to imitate them. When a series of murdered trolls turns up, the characters work together to find out what happened. Romance! Action! Feelings! Magic! This book has it all. 
"The most unique, haunting, magical, treacherous, romantic, combative novel I've read in a long time. Action, betrayal, peoples at war, strange magic and stranger love--a whole new take on fantasy!"—#1 New York Times bestselling author Tamora Pierce
"What a marvelous debut! I want to climb inside C.M. Waggoner's world of powerful trolls, cheeky wizards, and mathematical magic and make myself at home. She seamlessly weaves politics, love, and magic into a novel that challenges everything we know about fantasy—and comes out victorious." —New York Times bestselling author Chloe Neill
"I didn't think you could fit so many things I loved into one book--tough-talking lady-trolls and cowardly captains, true love and found families, Holmesian hijinks and gender politics--but C.M. Waggoner made it look easy. Unnatural Magic is a raucous, indulgent delight."—Alix E. Harrow, Hugo Award-winning author of The Ten Thousand Doors of January
Emma Newman  - ATLAS ALONE (Ace, April 2019) 
This is the gripping, intense final book in the PLANETFALL series. Six months into their journey away from Earth, Dee (who first appeared in AFTER ATLAS) is struggling to adjust to life aboard ship. She spends most of her day immersed in games, but when she discovers that some people are dying in games and turning up dead in real life, the mystery leads to a deeper, more sinister secret at the heart of Atlas 2. The PLANETFALL series is an incredible achievement and each book stands alone (though I recommend reading them in order!) 
"Newman builds on the best elements of her interconnected Planetfall series…[A] winning combination of intriguing mystery and inventive SF."—Publishers Weekly (Starred review) 
"Emma Newman is one of the very best modern science fiction writers pushing the boundaries of the genre."—Adrian Tchaikovsky, Clarke Award winning author of Children of Time
"Cathartic and transcendent."--The New York Times
Ren Warom - COIL (Apex, June 2019) 
This is a dark, twisty, cyberfantasy noir. In a city where body modification has reached new heights of sophistication, and everyone you meet has done something to modify their body, someone is killing people - and removing the modifications that now serve as identification. It falls to Bone Adams, the city's most legendary modification (and a man without a mod) to find the killer. COIL is one of the first books I worked on with Ren and in addition to COIL, she is also the author of cyberpunk thrillers ESCAPOLOGY and VIROLOGY (Titan). 
" There is so much more that lurks under the surface that even after the first read of Coil most reader may want to dive back in. I know I do!" --Pyles of books 
"The combination of noir, horror, and sci-fi broaden Coil's appeal but it's the protagonist and antagonist which make this something special; two sides of the same grime and blood crusted coin."
—Just a Guy Who Likes to Read review blog
BEST SERIES
Emma Newman - the PLANETFALL series (Ace) 
From a space colony on an alien planet, to the futuristic noir of post-capitalist London, to the pressure-cooker of an isolated station on Mars, to a colony ship escaping a ravaged Earth, the settings of the novels in the PLANETFALL series are as diverse as their protagonists. This book has garnered praise from all over, and I can think of no better next step than getting this fabulous quadrilogy nominated for Best Series. 
W.L. Goodwater - Cold War Magic series (Ace) 
BREACH and REVOLUTION are, together, about magic in an alternate Cold War era, but they're also about power - who wants it, who has it, and how it's used by those who do. Karen O'Neil is a woman caught between doing what she is told and what is right, and the forces she fights against are more complicated than just good versus evil. I love these two books. 
SHORT FICTION 
Maurice Broaddus
"The Migration Suite: A Study in C Sharp Minor" Uncanny Magazine (Issue Twenty-Nine, July 2, 2019)
"What the Mountain Wants" written with Nayad Monroe  - Do Not Go Quietly: An Anthology of Victory In Defiance (Apex Publications, May 21, 2019)
Alternis Season 1 (SerialBox)
Chesya Burke
"Stormy Monday" A Secret Guide to Fighting Elder Gods (Pulse Publications, April 2019)

"Haint Me Too" Hex Life: Wicked New Tales of Witchery (Titan Books, October 2019.
Lucy Snyder
Lucy had a VERY prolific year - check out her website for a full list of eligibility, but included below are a few:
"Visions of a Dream Witch" A Secret Guide to Fighting Elder Gods (Pulse Publications, April 2019)  
"A Simple Plan" – Eyedolon Magazine, Broken Eye Books, November 2019.
"The Porcupine Boy" – The Porcupine Boy and Other Anthological Oddities, Crossroad Press, October 2019
"Living Dead Space" – Eyedolon Magazine, Broken Eye Books, August 2019.
Mark Tiedemann
"Follow, Past Meridian" - Analog Science Fiction & Fact (November/December 2019)
CLIENT NEWS
I've had two clients with books out in the last two weeks - Sarah Kapit's debut GET A GRIP, VIVY COHEN! came out from Dial Books for Young Readers on February 25, and DOCILE by K.M. Szpara comes out today from Tor.com! Check them both out - one is VERY different from the other. 
Speaking of short fiction, Mark W. Tiedemann has a new short story in Analog Science Fiction & Fact! "Camphor" appears in the March/April issue, available on (literal) newsstands now. 
If I missed anyone, my apologies! will update this post if any more come in!
THIS WEEK IN HOCKEY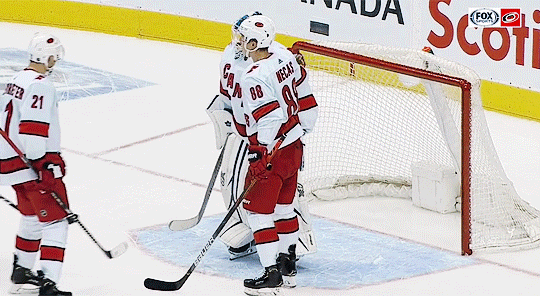 At every hockey game in the NHL, each team dresses two goalies -  one to start, and one to sit on the bench glowering in case the starter gets injured. In most cases, having just the one guy as backup is enough. Sometimes, though, in incredibly rare cases, both goaltenders will get injured during the course of the game. Enter the most delightfully chaotic element in professional sports: the Emergency Back Up Goaltender. 
The EBUG is employed by the home arena. They're brought to the game and given a seat in the stands, and if a goalie goes down, they go to the locker room to put on their pads - just in case. Most of the time, the team's backup goalie finishes out the game and the EBUG never sees ice time. Sometimes, though, both goalies eat it, and the EBUG is called out for their moment of glory. The EBUG is almost always a local beer league player or college coach. One time, memorably, an accountant stepped in for the Chicago Blackhawks. 
Last weekend, the Carolina Hurricanes were in Toronto, playing the Maple Leafs. Six minutes in, Hurricanes goalie James Riemer was injured when he was struck by a player on his own team. Canes #1 Petr Mrazek was brought in, only to be leveled like a shack in a hurricane by Kyle Clifford when he left the crease in an attempt to play the puck back out of the defensive zone with half of the second period left to go. 
Enter: David Ayres, the Emergency Back Up Goalie for Scotiabank Arena.  
Ayres could have been pulled in for either team - he's there just in cases, and if my beautiful Danish ginger prince Freddie Andersen or [checks notes] Jack Campbell had gotten injured, he'd have been pulled in for the Leafs. (I have no idea what happens if all four goalies eat it in one game - presumably the captains play rock paper scissors and they go all home.) Ayres let in two goals almost immediately. 
But then something crazy started happening: the Canes pulled it together. They started actually defending. They started playing offense. And then they won. 6-3.
There have only been two other instances of an emergency backup goaltender being the goalie for a winning game. And at 42 years and 194 days, Ayres is the oldest goalie to win his NHL debut.  Even the Leafs fans, who in general are not the most friendly towards the winning exploits of visiting teams, gave Ayres a standing ovation at the end of the game. 
And possibly the funniest thing about this whole, patently ludicrous situation? Funnier than the richest, most stacked-with-talent team in the league being clowned in net by a guy twice the age of some of their star players?
David Ayres is employed as a zamboni driver for the Toronto Marlies, the AHL affiliate of the Toronto Maple Leafs. In the immortal words of Steve Dangle (whose book THIS TEAM IS RUINING MY LIFE is great, and who I hope is getting his cardiac health checked out): 
"The Toronto Maple Leafs lost an actual National Hockey League game to a 42-year-old zamboni driver WHO WORKS FOR THEM!!!" (lots of screaming in this video) 
Beyond the Leafs eating it on home turf to a team two out from a wild card spot, the truly remarkable thing about this is that it's amazing Ayres is alive at all, let alone playing hockey. He's survived two bouts of skin cancer and fifteen years ago, received a kidney transplant from his mother. He's been using the frenzied attention from the following his win to bring attention to organ donation. 
I can't think of any other sport that has something like this - an opportunity for some rando dude, whose last level of pro hockey was in juniors, to take a chance in the show, even for one night. Of course the NHL is revisiting the rules around EBUGs because god forbid we have even one iota of fun. But for half of one brief, chaotic game, that rando was the hero we needed, even if he wasn't the hero we deserve. I guess it goes to show that no matter what time of life you're in, there are still moments for transcendence, for joy, for outrageous success on a national stage, however improbable. 
It gives me chills to think about it.
Your regularly scheduled programming, links and all, will resume on the 17th. Feel free to leave questions or suggestions for topics in the comments. Thank you for subscribing! 
This has been A Faster No, a weekly dispatch on publishing, writing, books, and beyond. This is a free post, but if you'd like to support the newsletter and get exclusive content, paid subscriptions are available for $5/month or $50/year. Feel free to forward.